History
The construction of this car started in the winter of 1938/1939 by Richard Sawin of Boston, MA. He sold the car in late 1939 or early 1940. As there was no racing during World War II, the new owner continued working on the car and had it race worthy just after the end of the war in 1945.
After 1945, little is known at this time other than the car ran mostly in what was called the East Coast Circuit. To the best of my knowledge, at one time, this car was owned by the famous "Pappy" Hough and driven by racing star, Shorty Cantlon.
While this car is currently painted as one of the Bowes Seal Fast Specials, we don't believe it was raced with this color scheme. We are currently researching to try to gather more information about this particular race car.
This vehicle is on display in the Gift Shop in the Hind Pavilion.
Just For Fun
How Fast Can You Build This Car?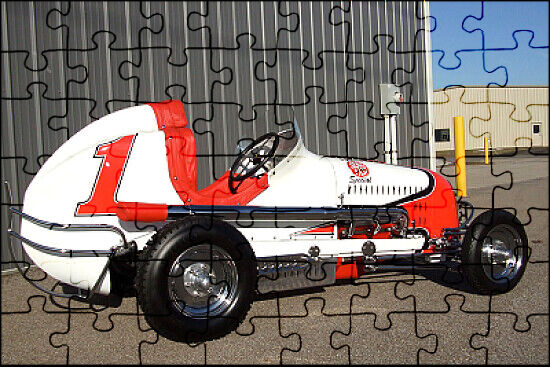 1938 Midget Race Car
Year Built: 1968 - 1945
Vehicle Type: Midget Race Car
Built By: Richard Sawin
Suspension: Cross Spring Front and Rear
Engine: Ford Flathead V-8, 221 cubic inch displacement, Dual Stromberg 97 Carburetors, Aluminum Heads, Gasoline Fuel
Owner:Estrella Warbirds Museum